Project Origin:
For some time now, players on our Discord have been requesting more options to align the virtual sightline, controllers, and headset correctly. They want to be able to adjust the cheek weld when there's a difference between the stock height and the controllers, whether it's upward or downward.
With our static stock MK1 (formerly "classic back-end"), aiming down sights (ADS) can require extra effort (changing positions, adjusting the stock between rounds) due to:
Players' morphology and size,
Headset size,
And/or the gunstock configuration to match the virtual weapon used.
With the Static Stock MK2, we eliminate this constraint. You can now customize your gunstock to perfectly match your weapon by sliding the adjuster up or down, with a range of 6.7cm.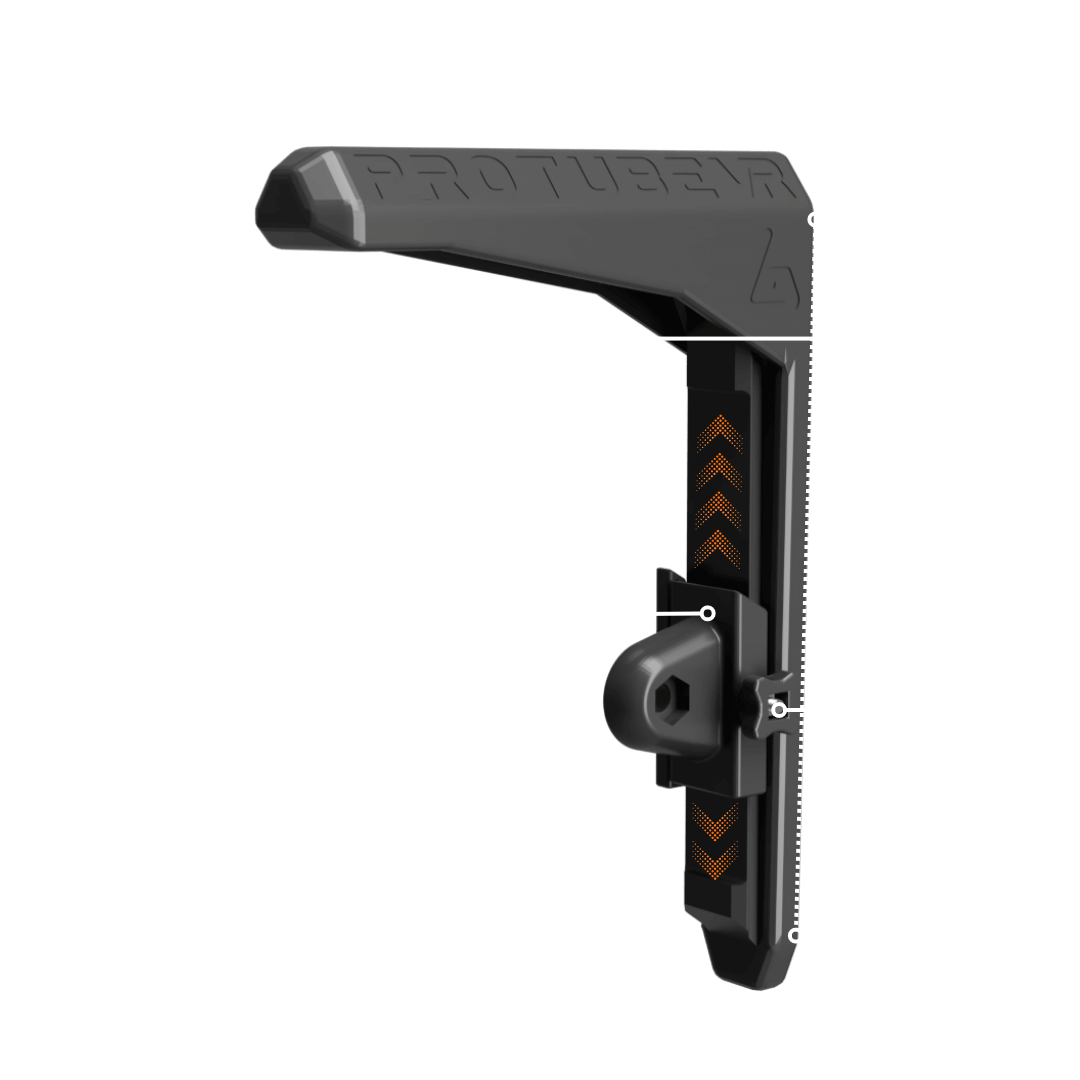 Adapt on the Fly:
Another notable improvement.
We're known for having the most configurations possible BEFORE entering the game. Between rounds, it used to require an Allen key to readjust certain elements, loosening and tightening screws to prevent joints from moving during intense gameplay sessions. Over time, we replaced some parts of our gunstocks to facilitate these adjustments.
And now, with the tightening screw on the stock adjuster, you can adapt your stock mid-game without even taking off your headset. The tightening screw is small enough not to hinder you when shouldering the stock and big enough to manipulate with bare hands. No need for a tool for minor adjustments. No immersion break between rounds.
Who is this intended for and what will it allow?
It is mainly intended for gunstock users like the MagTube VR rifle or those with the SMG (submachine gun) extension of the Starter CQB gunstock.
The gains are straightforward:
A better score and K/D ratio due to improved alignment using the sights or the scope.
Greater gameplay comfort and better in-game weapon compatibility.
Enhanced immersion as this type of tool is used by professional soldiers.
Why the term "static"?
In addition to our accessories, we're known for offering haptic solutions for players seeking more immersion in their games. By "haptic," we mean modules that simulate the recoil of your virtual firearm in your hand and/or on your shoulder.
Currently, we have:
As our product range continues to grow, we want to make it easier to distinguish between our non-haptic and haptic products. We've opted for the term "static" for the non-haptic elements.
Over time, we will update our content to clearly display "static" and "haptic" labels on accessory categories that may have this difference.
The design reminds me of something:
And that's intentional. The "angular curves" of the MK2 static stock are clearly inspired by the outer structure of our haptic stock ForceTube.
(You see, the difference between static and haptic comes in handy)
Stock color:
Currently, the stock is only available in carbon. It's a material that handles intensive use well and has a long lifespan. And it looks classy (in our humble opinion).
If you'd like to see the usual gray/white/red, feel free to drop a note to our support. We'll pass the information to our design team.
Regarding our current offer and shipping fees:
Our 30% off offer is mainly aimed at players who already have one of our gunstocks. Thank you for trusting us to improve your gaming sessions. If you're only taking this product, we recommend that you take the Eco shipping for €5. It takes longer, but the cost of shipping won't be a major part of the product's price. The offer ends 2023/08/31.
Have a good game!
Comments (0)
No comments at this moment