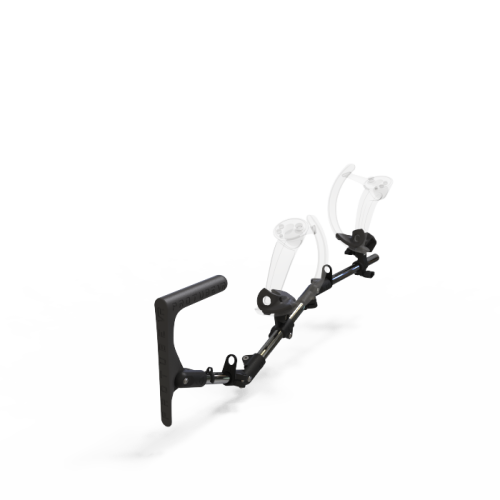  
ForceTubeVR Rifle (pre-order)
* THIS IS A PRE-ORDER. ANY ORDER MADE NOW WILL BE DELIVRED END MAY 2020 *
Feel the battlefield with the ForceTubeVR

haptic rifle.
Each of your shots has an impact. Live it with the recoil.

A MagTubeVR rifle completed by a ForceTubeVR haptic back-end, connected to your game.
Each shot generates a double effect: the rumble and the kick of the firearm on your shoulder.
The effect changes depending on the weapon you are using.
Become closer from your avatar.
Batteries life: 4h
Requires Bluetooth connection. With the ForceTube rifle, we provide a bluetooth dongle, no need to order one.
Rechargeable with a USB-C cable.
The module is backward compatible with Steam VR and comes with its companion-app for others.
Simulate a modern conflict and dive into the heart of the gunfight.
Rise over the competition and claim your Champion title.
Short list of usable games

What is included

Out of the box ready or in kit


1 x Tubes set


Chrome or Carbon ?


1 x Haptic back-end


1 x USB-C cable

Do you want to build it yourself ? Or do you want to spare time ?

In this case, choose as you pull a trigger with your left or right hand.

Do you want a shiny or dull armature? Carbon tubes have the advantage of being 100g lighter and last longer in time than chrome.

Avoid chrome tubes with Knuckles (Index), due to interference.


The ForceTubeVR haptic module increases immersion by simulating the recoil of your shots on your shoulder.

Choose the butt's color.




2 x MagCups


1 x Sling

1 x Bipod (option)


Disconnect and reconnect the magnetic cups, the MagCups, from your rifle with their powerful magnets.

Choose your VR system and MagCups' color.

MagCups improve immersion and maneuverability.

A 1 point shoulder strap is provided. Choose its color (black, brown, green) or opt for a 2-point sling for a better grip.

It improves comfort and secures your ForceTubeVR.


While lying on the ground or close to a support, allows you to aim without shaking.

Especially popular for snipers, it facilitates their long distance shots.

Controllers are not included.

How does it work?

We provide a Companion App which will allow you to connect the ForceTubeVR module to your computer and to fine tune it.
Somes games do not natively integrate the use of the ForceTubeVR module.
But you can still play with the ForceTubeVR module if these games are launched by SteamVR because our Companion App will link SteamVR to the module.
You will find our Companion App here.
     We improve it regularly and more and more games are natively compatibles with the ForceTubeVR. 
Shipment
Click on the image if you need more information about the delivery.