+ €20.00
Ready to use (Right-handed)
+€20.00
VR Rifle ready to use (Mounted for a Right-Handed person)
+ €20.00
Ready to use (Left-handed)
+€20.00
VR Rifle ready to use (Mounted for a Left-Handed person)
+ €0.00
In kit (tools provided)
+€0.00
You have to assemble yourself, aprox time :1h Included : Tools and instruction
+ €240.00
Grey Butt
+€240.00
ForcetubeVR Gen2 Force feedback module (internal charge, batteries, removable butt foam) Shipment Start : December 2019
+ €245.00
Carbon Butt
+€245.00
ForcetubeVR Gen2 Force feedback module (internal charge, batteries, removable butt foam) Shipment Start : December 2019
+ €242.50
Red Butt
+€242.50
ForcetubeVR Gen2 Force feedback module (internal charge, batteries, removable butt foam) Shipment Start : December 2019
+ €242.50
Blue Butt
+€242.50
ForcetubeVR Gen2 Force feedback module (internal charge, batteries, removable butt foam) Shipment Start : December 2019
+ €242.50
White Butt
+€242.50
ForcetubeVR Gen2 Force feedback module (internal charge, batteries, removable butt foam) Shipment Start : December 2019
+ €40.00
Grey Magnetic Cups
+€40.00
Magnetic link between frame and controller mount
+ €50.00
Carbon Magnetic Mounts
+€50.00
Magnetic link between frame and controller mount
+ €42.50
Red Magnetic Mounts
+€42.50
Magnetic link between frame and controller mount
+ €42.50
Blue Magnetic Mounts
+€42.50
Magnetic link between frame and controller mount
+ €42.50
White Magnetic Mounts
+€42.50
Magnetic link between frame and controller mount
+ €0.00
+ €10.00
Carbon Classic Cups
+€10.00
+ €2.50
+ €2.50
+ €2.50
White Classic Cups
+€2.50
+ €35.00
Grey Magnetic Cups
+€35.00
Magnetic link between frame and controller mount
+ €45.00
Carbon Magnetic Mounts
+€45.00
Magnetic link between frame and controller mount
+ €37.50
Red Magnetic Mounts
+€37.50
Magnetic link between frame and controller mount
+ €37.50
Blue Magnetic Mounts
+€37.50
Magnetic link between frame and controller mount
+ €37.50
White Magnetic Mounts
+€37.50
Magnetic link between frame and controller mount
+ €0.00
+ €10.00
Carbon Classic Cups
+€10.00
+ €2.50
+ €2.50
+ €2.50
White Classic Cups
+€2.50
+ €35.00
Grey Magnetic Cups
+€35.00
Magnetic link between frame and controller mount
+ €45.00
Carbon Magnetic Mounts
+€45.00
Magnetic link between frame and controller mount
+ €37.50
Red Magnetic Mounts
+€37.50
Magnetic link between frame and controller mount
+ €37.50
Blue Magnetic Mounts
+€37.50
Magnetic link between frame and controller mount
+ €37.50
White Magnetic Mounts
+€37.50
Magnetic link between frame and controller mount
+ €0.00
+ €10.00
Carbon Classic Cups
+€10.00
+ €2.50
+ €2.50
+ €2.50
White Classic Cups
+€2.50
+ €35.00
Grey Magnetic Cups
+€35.00
Magnetic link between frame and controller mount
+ €45.00
Carbon Magnetic Mounts
+€45.00
Magnetic link between frame and controller mount
+ €37.50
Red Magnetic Mounts
+€37.50
Magnetic link between frame and controller mount
+ €37.50
Blue Magnetic Mounts
+€37.50
Magnetic link between frame and controller mount
+ €37.50
White Magnetic Mounts
+€37.50
Magnetic link between frame and controller mount
+ €0.00
+ €10.00
Carbon Classic Cups
+€10.00
+ €2.50
+ €2.50
+ €2.50
White Classic Cups
+€2.50
+ €35.00
Grey Magnetic Cups
+€35.00
Magnetic link between frame and controller mount
+ €45.00
Carbon Magnetic Mounts
+€45.00
Magnetic link between frame and controller mount
+ €37.50
Red Magnetic Mounts
+€37.50
Magnetic link between frame and controller mount
+ €37.50
Blue Magnetic Mounts
+€37.50
Magnetic link between frame and controller mount
+ €37.50
White Magnetic Mounts
+€37.50
Magnetic link between frame and controller mount
+ €0.00
+ €10.00
Carbon Classic Cups
+€10.00
+ €2.50
+ €2.50
+ €2.50
White Classic Cups
+€2.50
+ €35.00
Grey Magnetic Cups
+€35.00
Magnetic link between frame and controller mount
+ €45.00
Carbon Magnetic Mounts
+€45.00
Magnetic link between frame and controller mount
+ €37.50
Red Magnetic Mounts
+€37.50
Magnetic link between frame and controller mount
+ €37.50
Blue Magnetic Mounts
+€37.50
Magnetic link between frame and controller mount
+ €37.50
White Magnetic Mounts
+€37.50
Magnetic link between frame and controller mount
+ €0.00
+ €10.00
Carbon Classic Cups
+€10.00
+ €2.50
+ €2.50
+ €2.50
White Classic Cups
+€2.50
+ €35.00
Grey Magnetic Cups
+€35.00
Magnetic link between frame and controller mount
+ €45.00
Carbon Magnetic Mounts
+€45.00
Magnetic link between frame and controller mount
+ €37.50
Red Magnetic Mounts
+€37.50
Magnetic link between frame and controller mount
+ €37.50
Blue Magnetic Mounts
+€37.50
Magnetic link between frame and controller mount
+ €37.50
White Magnetic Mounts
+€37.50
Magnetic link between frame and controller mount
+ €0.00
Green 1 point Sling
+€0.00
Tactical Sling with spring effect, 1 link to Frame
+ €0.00
Brown 1 point Sling
+€0.00
Tactical Sling with spring effect, 1 link to Frame
+ €0.00
Black 1 point Sling
+€0.00
Tactical Sling with spring effect, 1 link to Frame
+ €5.00
Green 2 point Sling
+€5.00
Tactical Sling with spring effect, 2 link to Frame
+ €5.00
Brown 2 point Sling
+€5.00
Tactical Sling with spring effect, 2 link to Frame
+ €5.00
Black 2 point Sling
+€5.00
Tactical Sling with spring effect, 2 link to Frame
Clear
+ €0.00
+ €25.00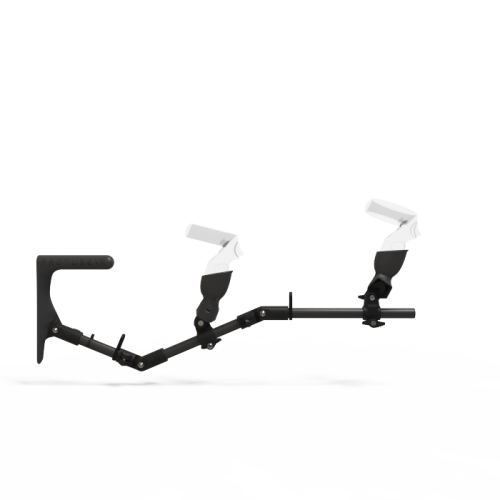  
ProTubeVR Config
Reach a new level of immersion thanks to this VR FPS accessory.
Get a haptic force feedback module simulating impact kicks and rumble effects + a classic ProTubeVR rifle.
Controllers are not included.
*Warning: if you choose a ForceTubeVR back-end, note this is a pre-order. The ForceTubeVR shipping will start at the end of 2019, with shipments that will be in the order of the dates of purchase. Any order made now will only be delivered in January or February 2020.*
With this configurator, you have the possibility to create the ProTubeVR you want and to customize it.
A multitude of possibilities are available, from the color of the cups to the options and additional accessories to increase immersion:
It's up to you, either you decide to order it in a "Do it Yourself" kit, or you buy it already assembled and ready to use.
Expect a good hour of mounting before you can play.
If you choose to buy it mounted, you will have to specify if you want to set it as right-handed or left-handed.
You have the choice between composing your ProTubeVR with chrome or carbon tubes.
The differences between the two materials are in terms of weight but also in the life of the product.
With perspiration during play, the chrome part will tend to age less well than its carbon equivalent.
Two types of stocks are available. The classic stock and the ForceTubeVR. The classic stock simply allows you to support your rifle and offers you comfort and stability during shooting.
The second possibility, the ForceTubeVR system, consists of a haptic module that recreates the feeling of recoil of the weapons during firing instead of the conventional stock. A mobile motorized pad, directly in contact with the player's shoulder, is wirelessly connected to your computer or game console: the transmission of impacts and the vibration of the weapon are ensured in real time. There are two generations of ForceTube.
ForceTubeVR features:
Impact simulation: the moving pad directly interacts with the user's shoulder with a variable amount of force (up to 60 newtons).
Rumble: ForceTubeVR can play rumble effects at different intensities (low and high frequency).
Battery lifetime: Last over 7 hours on intensive arcade use, more than 10 hours on regular use.
Auto-reconnect feature: ForceTubeVR is eyes-free operation friendly. The device can be switched ON/OFF during gameplay and reconnects by itself. So the gamer does not need to restart or do anything, even take off his HMD.
Backward compatibility on any OpenVR app: Companion app is able to sniff actual rumble signal and transfer it to the ForceTubeVR with a wide range of possible settings. 
Full plug&play: Once paired with windows, it is not mandatory to use any third party software on natively compatible apps. The game is directly talking to the ForceTubeVR.
Android companion app: For preflight checks or showcase to your friends without the need of a VR setup or computer. 
Differences between GEN1 and GEN2:
GEN1: correspond to the 'Devkit' version you can see in the video reviews. It includes external charging solution, batteries, charger and Bluetooth dongle (Radio transmitter FCC and CE approved)
GEN2: same core features and global shape, will have improved shape and foam on the rear part, internal batteries charger (universal v5 USB), power circuit rework, and maybe more
Choose the virtual reality system with which you will use your ProTubeVR. The configurator will show you cups in different colors specially designed for your controllers (controllers not included).
You can choose between classic cups and magnetic cups (MagTubeVR).
The MagTube is a removable magnetic attachment to your Protube. It replaces the ProTube's basic cups and allows you to disconnect and connect your controllers to your gun stock in a simple, instinctive, and quick way.
The Magtube facilitates player movements such as reloading, throwing grenades, handling secondary weapons, etc. By making your interactions with the virtual world easier, and more natural, it helps you immerse yourself in the game. It also improves your freedom, efficiency, and responsiveness. Particularly suitable for FPS, the MagTube device is popular with most ProTubeVR users.
Choose your tactical sling. The base sling is connected to your ProTubeVR by one attachment point.
For more comfort and stability, choose a sling with two attachment points.
Foldable telescopic bipod:
The telescopic bipod allows you to aim without shaking. It is the ideal accessory to perfect your experience and performance in your favorite FPS. It is particularly appreciated by sniper users, who must ensure their shots at long distances. 
Controllers are not included.
Shipment
Click on the image if you need more information about the delivery
Data sheet
Weight

1,4kg

Lengh

72cm

Grip height

19cm

Bipod Size

24,5 to 29cm

Bipod weight

283g