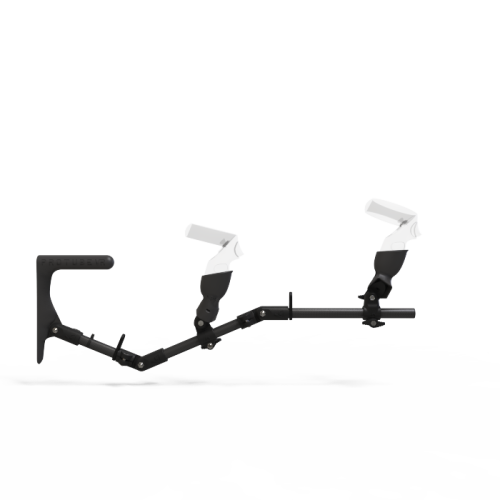  
ForceTubeVR (module only - preorder)
Reach a new level of immersion thanks to this VR FPS accessory.
A haptic force feedback module simulating impact kicks and rumble effects.
Controllers are not included.
*Warning: this is a pre-order. The ForceTubeVR shipping will start at the end of 2019, with shipments that will be in the order of the dates of purchase. Any order made now will only be delivered in January or February 2020. *
By purchasing this one you will only get the module to upgrade the ProTubeVR rifle you already own.
The ForceTubeVR system consists of a haptic module that recreates the feeling of recoil of the weapons during firing instead of the conventional stock. A mobile motorized pad, directly in contact with the player's shoulder, is wirelessly connected to your computer or game console: the transmission of impacts and the vibration of the weapon are ensured in real time. 
We only sell Focetubes from the second generation.
Differences between GEN1 and GEN2:
GEN1: correspond to the 'Devkit' version you can see in the video reviews. It includes external charging solution, batteries, charger and Bluetooth dongle (Radio transmitter FCC and CE approved)
GEN2: same core features and global shape, will have improved shape and foam on the rear part, internal batteries charger (universal v5 USB), power circuit rework, and maybe more
Features:
Impact simulation: the moving pad directly interact with the user's shoulder with a variable amount of force (up to 60 newtons)
Rumble: ForceTubeVR can play rumble effects at different intensities (low and high frequency)
Battery lifetime: Last over 7 hours on intensive arcade use, more than 10 hours on regular use.
Auto-reconnect feature: ForceTubeVR is eyes-free operation friendly. The device can be switch ON/OFF during gameplay and reconnects by itself. So the gamer does not need to restart or do anything, even take off his HMD
Backward compatibility on any openVR app: Companion app is able to sniff actual rumble signal and transfer them to the ForceTubeVR with a wide range of possible settings. 
Full plug&play: Once paired with windows, it is not mandatory to use any third party software on natively compatible apps. The game is directly talking to the ForceTubeVR.
Android companion app: For preflight checks or showcase to your friends without the need of a VR setup or computer. 
Controllers are not included.
Shipment
Click on the image if you need more information about the delivery
Data sheet
Weight

750g

Grip height

19,7cm